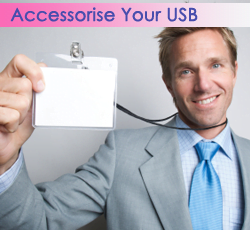 Branded USB Sticks are the perfect promotional item giving a real edge to your promotional campaign, however if you want to add that Extra edge to your drive, it might be worth considering the wide variety of accessories that USB Makers offer in order to make sure your USBs stand out from the crowd. USB Makers offers boxes, keyrings, lanyards and more to give your USB a more bespoke feel. Whether it is for aesthetics or practicality, the accessories offered can benefit your USB. Whether it is for your the ease of yourself or for those who receive them.
As mentioned, Branded USB Memory Stick accessories can be used for both aesthetic purposes or practical purposes, with promotional boxes and lanyards being a great way to add additional custom printed materials to your USB purchase, with lanyards and keyrings adding practicality, ensuring the recipient of your promotional USBs always has it handy to see your logo. The basic black lanyards and keyrings are also inexpensive additions for the extra 'handiness' it offers for both your customer and your promotional campaign, starting from only 10p extra per unit.
USB Makers offers five different varieties of a keychain, all similarly priced. There is a classic keyring style, a classic keyring style with an added 'swivel', allowing for greater movement and a version which is a clip as opposed to a keyring. There are more lightweight versions, such as a keyring cord, perfect for attaching to products which accommodate them, allowing your USBs to be carried as a 'charm', or a ball chain.
Lanyards offer a similar convenience and are perfect for conferences, for an order of 500 units or more, your lanyards can also be custom printed. Basic lanyards are available in four colours, Blue, Black, White, and Green. Soon USB Makers will be expanding its selection of lanyards to offer greater variety and lower minimum order quantities, contact your sales representative for more details on just what can be achieved with your lanyards.
Some customers also like to add boxes and tins to their order, enabling your Branded USB Memory Stick to give a more 'up-market' feel. These boxes are available in plastic, card or metallic styles, most of which can be custom printed too for orders of 50 units or more. These are especially favoured if your USBs are presented to customers, particularly popular with those wishing to give the USBs as corporate gifts, or presenting finished materials to customers on the drive.
USB Makers also offers not only customization on the outside, but the inside as well, with a number of data services available to enhance your data, such as data locking, volume labelling. One of our services, a 500Mb data upload is also offered as standard with most styles, ensures your USBs arrives to you ready to use for whatever purpose you intended. Whether it's the data on your drive or the way you wear it, USB Makers offers a range of services and to make your USB project as unique as you would like it to be.