Custom USB Memory Sticks
We have over 70 different USB styles available but have you ever thought of designing your own custom USB Memory Stick? We have the magic to turn your ideas into reality! Our custom USB drives are made of PVC rubber and can be moulded into more or less any shape that you desire. Your custom memory stick can be made into either 2D or 3D models, but although the 3D option is slightly more expensive the outcome is extraordinary.
The procedure taken to design and manufacture your company's custom USB drives is simple. Once we receive your artwork approval of the perfect design that suits you, we push your order into the production process. We begin the order process by making a live sample for you to approve through high resolutions images taken by our factory. Once we receive your final approval of your live sample, the balance of your custom USB sticks are given the go ahead! Please take a look at our recent Phillips 66 custom memory sticks to see how high the quality of your end product will be if you decide to venture down this stimulating route.

Memory sizes which are available for our custom memory sticks are 128Mb, venturing up to 64Gb. Nevertheless, please note that the minimum order quantity for 2D Custom USBs is 100 units, 3D is 250 units. We can also upload data free of charge up to 400Mb and the option to lock, unlock or to add an auto-run feature to your USB drive is also on offer to you. If your company wants to go that extra mile, we can also design your USB drive so that it contains an eyelet, which will enable you to add your very own USB accessories to them. If you have any further questions regarding our custom USBs then please do not hesitate to give our sales team a call now!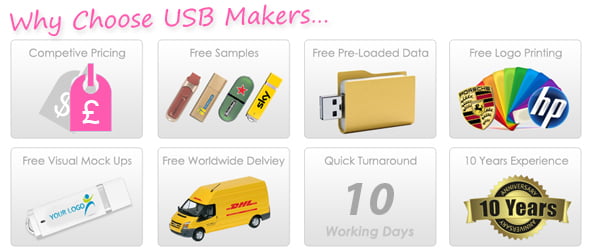 Compliment your USB Drive with one of our Presentation Boxes…
click here