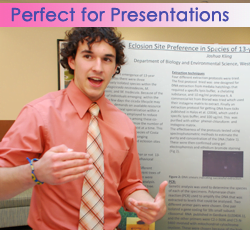 Presentations are often key to informing your potential clients, investors, and other employees of your services and products that are available and are essential for more complex subjects that require some breaking down and explanation to ensure your clients are fully informed. If your company happens to give presentations often, it might be a good idea to make sure your employees are fully equipped with Corporate USBs, to ensure they all have the presentations and resources they need to make the best impression of your company and have the power to answer all questions asked of them easily and effectively.
Ensure your employees are always prepared.
Making sure your employees are always prepared is key to ensuring presentations hit home with the audience. Loading your USBs with the presentations themselves is a good idea, however, providing extra information and that employees can utilize can also be effective in getting the most out of your presentations and staff. These resources could be additional information on products that expand on the information on the slides, presentation notes, frequently asked questions by audiences or tips and tricks on effective presentation skills.
Distribute key information from the presentation to watchers afterward as a promotional tool.
A popular option is to distribute slides or information regarding the presentation to the audience after they've watched the presentation, at big exhibitions, Corporate USBs may be a good option for distribution, especially if key potential clients are present, they also act as a good corporate gift and method of brand awareness. However good, explanatory, and in-depth the presentation, it's often difficult to get your audience to retain the information after the presentation is over, and lots of paperwork often get discarded or lost. A USB that your potential clients can use over and over again is a good way to get potential clients to see information on your presentations, services, and products.
Pre-load your presentations with USB Makers 500Mb pre-uploaded option.
USB Makers offers 500Mb of data pre-uploaded as standard with most USB styles, what this means is that if your presentations are already completed, it may be worth taking advantage of this optional service, to save you time and money in uploading each USB one-by-one with all the information you need.
This information can be left unlocked for future updates, or if it is distributed to clients, the drive can be partitioned, with the portion of your data locked so it can never be deleted. The locking service is offered as a free optional. For a small fee, other services to enhance your data can be obtained, including drive labelling and password protection, files can even be made to auto-run when the drive is placed into the computer. Most of USB Makers' styles come with a 1-2 colour print on both sides as standard. Capacity sizes range from 64Mb to a large 16Gb, meaning whatever your file needs, there is a size to suit your project.