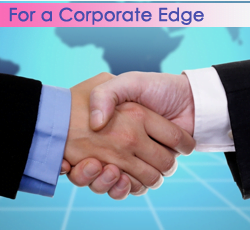 When selecting a Branded USB Stick for your company's promotional event it's important to make the right impression on your client, whilst giving them a product that functions practically as a conference giveaway. An undeniably challenging task for anyone organizing their company's event. USBs, however, don't have to be restricted to a single task at such events, but can rather take multiple roles to aid both your customers and your employees in your company's marketing campaign.
As a Giveaway to Customers
USBs are the perfect corporate giveaway to re-enforce your company's marketing campaign. It is also a wonderful gift to receive from the customer's point of view.
The customer receives a practical device which they can use day-in, day-out. Whilst your company's brand gains recognition each time it's used. In particular, styles such as USB Wristbands, Lanyard USBs, Slim Credit Card Styles and USB Pens, ensure that your customer's USB can remain on their person twenty-four-seven, giving maximum brand exposure. Additionally, for a small cost, most styles can be equipped with a keychain, again, transforming your USB into a keyring to be easily accessed by your customers.
Data can also be pre-added to your Corporate USB Flash Drives at source, saving you time and money. The limits of what data can be placed onto the USBs are only limited by capacity, additional information can be your company's contact information, website shortcuts, corporate documents, promotional videos, slideshows and much more. Pre-loading your USB can give your customer's almost limitless information on your company and its range of services, a popular alternative to reams and reams of documents which, even if given away, are too easily forgotten. The best advantage of ordering with USB Makers is that 500Mb can be pre-loaded as standard with most styles.
For Company Speakers
USBs aren't restricted to use as a giveaway either but can be used by employees as well, Pre-loading your USBs for use by your employees means they have relevant company information on hand whenever it's needed. Equipping your employees with smart, sleek corporate looking USBs can give a positive impression on clients and act as a practical tool for their work, particularly if presentations need to be given at exhibitions. Popular styles for this use include our Metal, Leather, Card and Wooden series of USB Drives. All of which have a modern 'high-end' feel. Or for the budget-conscious, the best-selling Dixie and Twister drives are popular choices.
USBs are practical and functional tools, simultaneously catering as complementary corporate gifts, brand promotion, transference of information and a convenient tool for employees. Corporate USB Flash Drives are a wise investment for any forward thinking company who want to get their services across in an easy, compact way at a minimal cost to themselves.