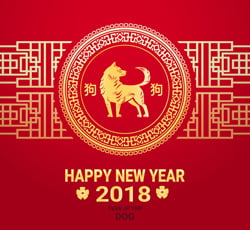 Chinese New Year is one of the biggest events in the Chinese Calendar. The two-week global holiday is a time for families to reunite, clean away any bad fortune for the year ahead, and most of all enjoy the festivities. But more importantly for us at USB Makers, Chinese businesses including our factory will be closed during this time.
What does that mean for my order?
As China welcomes the Year of the Dog, our standard 10-day lead time will be extended. This is because many of our USB styles, Gift boxes, and Powerbanks are produced at our factory in China, and this will have a knock-on effect on the delivery time of your order. Although the holiday only lasts for two weeks, when the factory re-opens they are busy working through the backlog of orders. Therefore, to avoid delays, the last order date for your branded USB drives, USB packaging or Powerbanks is the 31st of January. Any orders placed after that time could take up to four weeks to be fulfilled.
But I need my order sooner than that!
Fortunately, we are able to offer Spot, Full-Colour printing, and Laser Engrave in-house using our Branded USB Express Service at our UK office and are fully stocked to meet your requirements over the Chinese New Year. We hold 12 styles of USBs, 11 types of USB Boxes, and 5 different Powerbanks which can all be branded with your logo or artwork in 24 hours if needed! In addition, there is a minimum order of just 10 pieces and with styles at budget-friendly prices, the Year of the Dog is guaranteed to start well.
Contact us today for more information.