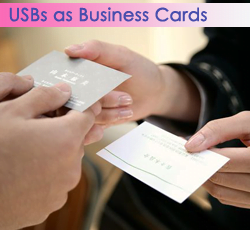 We offer a wide range of USB Flash Drives from the corporate to the novelty, however, if you're looking for a unique way to use your USB to your best advantage and promote your business, look no further than our range of Business Card USB.
Our Card Series is a unique series of USB drives that are shaped like credit cards. As you may know, USBs have many uses, primarily holding data, but what data is stored on them and how they're distributed can change their function completely. An increasingly popular trend we've noticed amongst our clients is the use of our Card Style USBs as Business cards.
Whilst regular business cards are great for conveying the bare essentials of contact information, such as name, an address, and a website etc.. By giving your potential client a USB Business Card, the possibilities of information you can convey to your customer is endless. USB Makers include 300Mb of data storage with your Card Style USB Drives as standard. But what can that 400Mb be used for?

Brochures – Include brochures of your business informing customers of your products and services in the form of PDFs.


Corporate Information – Include documents detailing in-depth details of your company for clients to browse at their own leisure in the form of word documents.

Video Content & Images – Add images of your business or products, or even a promotional video of your latest products to promote your brand.
Prese

ntations – Include presentations about your company, to break down the goals and capabilities of your company to your clients.
By including a comprehensive guide to your business, you can ensure that your potential clients know everything they wanted to know and any information they may not have known previously, maximising the information you can convey to your clients. The gift of a USB also acts as a kind gesture that clients can use regularly which in turn acts as a reminder of your brand every time they use it. Whatever you need to convey to your clientele, Credit Card USB Drives are a new and innovative investment for your business.


Dawn is the Production Manager at USB Makers and one of the main authors of the USB Makers blog.