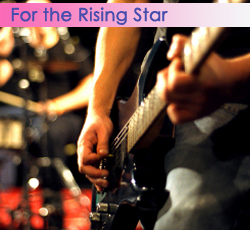 For the Rising Music Star it is essential that your sound is heard, which is why investing in Branded USB Sticks could help accelerate the progression of your career. USBs can help with distributing your music, promoting your associated website, and with brand recognition. Our USBs are size-conscious and competitively priced, if you are on a budget, fear not, our most popular styles are especially cost-effective. Not only are USBs are size-effective on the outside, but on the inside too, meaning you can be cost-effective with a low capacity, or breathe a sigh of relief as our larger sizes offer more than enough space for even the largest of music projects.
Promoting Yourself
It is one thing to be a musical talent, but in many ways, unfortunately, now more than ever, it is a case of getting yourself heard above the rest, and more specifically getting the right people to hear your music. By providing Branded USB Memory Sticks you are not only offering your music in the form of a promotional item, but you are providing a practical tool that can be used by the recipient, what this means is that they always have your music on-hand, and the branding means your name is constantly being re-enforced in the mind of the user.
Memory Storage & Styles
USB Makers offers a lot of freedom of choice, which allows for a great amount of customization, however, if you are unsure as to what you want, it may be worth looking at USB Makers most popular styles, the Dixie, Titan, and Twister, the three of which are also our most cost-effective styles. USB Makers also offers capacities from 64Mb to 16Gb, to give a rough idea, on the basis of 4Mb per song, a 64Mb USB has enough space to store around 16 songs, with the maximum capacity of 16Gb holding around 1686 songs. Most of USB Makers' USBs branding includes a 1-2 colour print both sides as standard, however, this does not mean that both sides have to be the same image, many of our previous clients opt to place their logo on one side whilst placing contact details or a website address on the other.
Pre-Loaded Data
Perhaps the best advantage of ordering your USBs with USB Makers is the fact that up to 500Mb of pre-loaded data is included as standard. If you already have the music you wish to distribute through your drives, why not transfer your data to USB Makers so we can upload them at source? If you have 10Mb or less of data, this can be transferred over e-mail, or if you have more than 10Mb you can use a free cloud service such as Dropbox, or transfer your data via USB Makers' free FTP service. Pre-loaded data is also not restricted to music content, this data can be anything you'd like, some clients upload images, videos, or most popularly, a shortcut file leading to their website. If you would like, USB Makers also offers the additional service of locking your data, what this means is that the USB drive is partitioned, with the usable space in one partition, and your music in another, which can never be deleted.