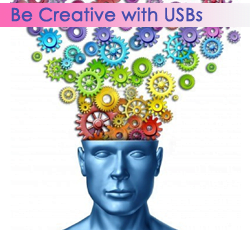 Creating your Printed USB Flash Drives doesn't have to be a hard task, it can be a fun experience, and with that with a little extra creative effort, it can enhance how successful your USB acts as a promotional tool. There are a lot of things to consider, however USB Makers are here to guide you through the process. There are added extras that can be fun to use and effective in your advertising campaign. USB Makers' services are constructed to help you in your quest for a USB that is right for you. USB Makers offers a range of over 50 styles, and our Account Managers are here to help you in choosing the style that is right for you.
The Right USB for You
Some of our more novel USB styles may be appropriate for your cause, our syringe style, for example, is often purchased for those in the health sector, whilst the PVC Pencil is commonly purchased by schools and universities whilst Metal Twisters are more commonly bought by corporate companies. If there's nothing that matches your tastes or needs or you would simply like something bespoke, then USB Makers does offer a 3D Custom Moulding option, in which you can design your own USB from scratch with a member of our experienced design team.
Mock-Up
USB Makers offers a free visual mock-up service, to help you order with confidence. A member of our experienced graphics team will be able to help you design your USB with your brand's logo. At USB Makers, we believe that providing a visual mock-up gives you a better idea of your project, allowing you to order confidently and ensuring you receive a USB that you can be proud to present to y our clients.
Pantone-Matched Shell
To add an extra dose of brand association, for an additional £20 per order on orders of 50 units and over, select styles can be Pantone-matched. This means that you can match your USB Shell to a Pantone colour. Giving you the freedom to go from a choice of around 8 colours to thousands of options. Most clients tend to match this colour to a colour in their logo to re-enforce their brand, or is a popular service for customers who want softer, more subtle pastel colours for their USB.
Data Uploading
When purchasing your USBs from us 500Mb of pre-loaded data is included as standard with most styles. Adding data to your USB can add a new dimension to the use of your USB can be used. By adding some well-worded PDFs or convenient Internet Shortcuts can give an extra edge to your promotional campaign. Or even add videos or music, there is no restriction on the files that are added. We also offer many additional services to enhance your data, including locking the data so it cannot be removed, password protection and an auto-run function.
The range of options that USB Makers offer means that your USB can be as diverse you would like it to be with the services available. We are here to help you create a USB unique and personal to you, to make sure that your company's USB stands out from the crowd.